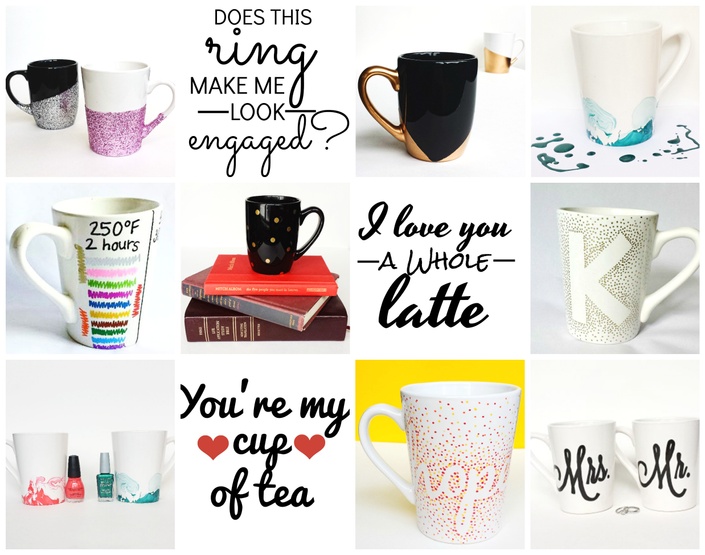 10-Minute Mugs
Tutorials, tips, tricks, and designs to help you create beautiful mugs in a flash
If you'd like to create beautiful and unique DIY mugs for yourself or for gifts, you've hit the motherload!
Coffee drinkers out there, raise your hand! If you're not a coffee drinker, odds are good that you drink some kind of beverage out of a mug (tea, hot chocolate, you name it). That's why DIY mugs are such a unique, versatile, and useful craft. They can be given as a gift to almost anyone, or heck, keep 'em for yourself, because let's face it, they're that cute. Now the question is, how do you make these mugs? 10-Minute Mugs includes tutorials for seven DIY mugs. Would you believe me if I told you that they all can be made for under $10. Holy moly! And if you're not a designer or don't have perfect penmanship? Never fear! 10-Minute Mugs has 18 downloadable patterns for your next DIY mug.
Mug tutorials include:
The Ultimate Guide to Sharpie Mugs
Dotted Sharpie Mugs
Glitter Mugs
Polka Dot Mugs
Marbled Nail Polish Mugs
How to Transfer a Design to Mugs
Metallic Spray Painted Mugs
That's a whole lotta mugs for a whole lotta coffee drinkers. Each tutorial includes pictures and step-by-step directions for how to make your own beautiful mugs.

10-Minute Mugs also includes:

17 Tips and Tricks to Perfect Sharpie Mugs
18 downloadable patterns - among them are:

Does this ring make me look engaged?
I love you a whole latte!
Be still and know that I am God
Each mug takes approximately 10 minutes to make. For a craft that inexpensive and quick to make, you'll want to give mugs to all of your friends and family!
This eBook is for you if:
You love a good craft
You adore the idea of making handmade gifts, but are stumped about what to make
You want your craft to turn out right the first time without having to make mistakes that cost you time and money
You want to impress friends and family with your ridiculously good-looking mugs
Your Instructor
Elizabeth is the author of Destination Decoration, a crafting blog devoted to providing tutorials that make crafting accessible to all. Destination Decoration is a home to all things crafty, from woodworking to watercolor, from canvas art to Dollar Store crafts. Elizabeth is also a self-taught calligrapher and an eager and willing learner of all things hand-lettering.
Apart from crafting, Elizabeth enjoys spending time with her husband and cats (though admittedly, she's more of a dog person). She is an avid reader and to be honest, drinks more soda than she probably (definitely) should.
What other crafters are saying:
Decorated mugs are quick, easy, fun, and functional crafts that also make great gifts. And Destination Decoration's 10-Minute Mugs provides fabulous, fail-proof tips and time-saving, tested techniques for designing your own one-of-a-kind masterpieces! The glitter mug instructions illuminated the secret of making these sparkly creations washable (and, therefore, practical). That terrific pointer alone made this extremely useful how-to manual a true gem!
--Michele
Amazing, thorough, informative, I could go on and on. This eBook truly simplifies decorating mugs with beautiful, chic designs. One of my favorites is using hole reinforcements for creating polka dots! I cannot wait to use the templates provided to make gifts for my family and friends - and a glittery one for myself. This is now my go-to guide for all of my future mug decorating.
-Samantha
10-Minute Mugs is the perfect guide for anyone looking for a quick, fun DIY project. Whether I'm creating a personalized collection for my own cupboard or making a mug or two as a thoughtful gift, I'm sure this eBook has a technique or design that will make my mugs stand out. Between the clear, helpful procedures and inspiring, colorful photographs, this guide is very informative. I'm already imagining how fun these mugs would be as party favors, stocking stuffers, or as part of a gift set!
-Haley
Frequently Asked Questions
When does the course start and finish?
The course is delivered as an eBook with chapters and sections for each DIY mug. Work through it at your own pace...it would be a little crazy to make all seven mugs at once! Make all the mugs or pick and choose your favorites.
How long do I have access to the course?
How does lifetime access sound? After enrolling, you have unlimited access to this course (the eBook) for as long as you like - across any and all devices you own.